Area of use: 
Intended for collection and transportation of waste electrical and electronic equipment, baled secondary raw materials, pallets, cargo and hazardous waste, as well as other goods which could be loaded/unloaded with a forklift from the side. Could be used as storage container.
Technical specification:
the capacity of the container is 35- 46 m3,
frame according to SS, DIN and other standards,
hook lift loading system,
double door with a door locking and security blocking fitted on the side of the container,
Version with side doors
Medium Version: thickness of steel sheets bottom: 4mm; walls: 3mm, Frame span: 750mm
Heavy Version: thickness of steel sheets bottom: 5mm; walls: 4mm, Frame span: 750mm
with side doors
"Hardox/ Domex" version or Hardox/ Hardox steel sheets
Special Options:
single door fitted with a security locking  on the side of the container, top hinged rear door,  also fitted with a rubber seal,
mounted on an extended section or at level with the base of the container,
logo plate
roller cover,
permanent roof,
sliding roof slideable by hand,
lifting roof lifted by a lifting break or a hydraulic pomp,
the forklift pockets under the containers
Our company also produces:
Hooklift containers  complies with the requirements of  SS-3021 standards or with the customers guideline, the capacity of the container is 10 - 49 m3
Type "Open Lift" , built according to SS-3020  standards with a capacity of 1 - 12 m 3, while the thickness of the metal used varies according to the order.
Type "Combo", built according to DIN 30720 standards with a capacity between 2,5 - 12 m3 while the thickness varies according to the demands of the client. The lids on these bins are equipped , however if the customer so pleases in steel, aluminum and  PCV lids can be added.
a wide variety of containers built in accordance to German standards DIN30720 and DIN3072-1
Storage container the length of 8 to 10 feet, adapted for vehicle transport or fork lifts and equipped with anti - leak double wing doors which ensure that no water will leak into the container
Oil reservoirs according to clients demands.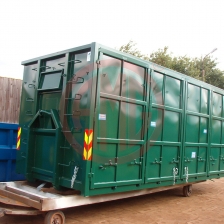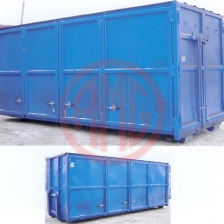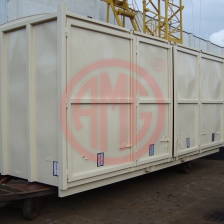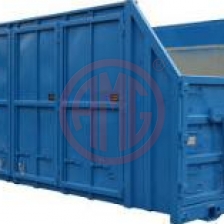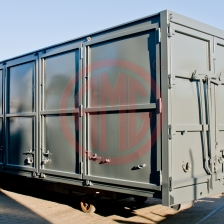 * Własność intelektualna firmy PPH AMG Sp. z o.o. Kopiowanie, drukowanie, powielanie bez pisemnej zgody właściciela jest zabronione.