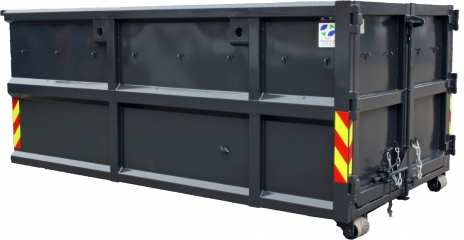 Area of use:
Intended for collection and transportation of household wastes, and other  types of wastes, where there is a problem with transportation of them i.e. in the narrow streets ( they have smaller dimensions)
Technical specification:
the capacity of the container is 11,7 m3,
frame according to SS, DIN and other standards,
dimensions outside: 4050x2120x1650,
dimensions inside: 3800x2000x1500,
hook Lift loading system,
thickness of steel sheets bottom: 4mm /side walls: 3mm,
double door,
Special Options:
other dimensions on request,
special paint,
* Własność intelektualna firmy PPH AMG Sp. z o.o. Kopiowanie, drukowanie, powielanie bez pisemnej zgody właściciela jest zabronione.