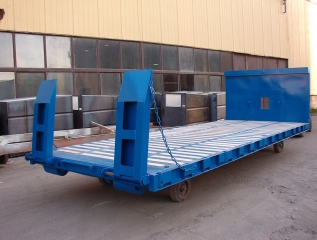 Area of use:
Intended for transportation of different machines, cars, equipment for machines, forklift, broken vehicles, agricultural machines, tractors.
Technical specification:
frame according to SS, DIN and other standards,
carrying capacity up to 20 tonnes,
hook Lift loading system,
 tool boxes,
in the bottom hooks and rings for the load,
woods bottom,
manually detachable and removable ramps,
length 6-6,5m,
Special Options:
steel smooth plate or steel corrugated plate on the bottom,
stanchions in the bottom,
special paint,
removable steel or aluminum sideboards and rear doors,
* Własność intelektualna firmy PPH AMG Sp. z o.o. Kopiowanie, drukowanie, powielanie bez pisemnej zgody właściciela jest zabronione.